The insecurity and unknown burrows into your brain like a parasite, constantly clawing at you and never relenting. You hate the feelings of the unknown that cause the tightness in your chest, that choke your throat. You try to speak to them but it never comes out right, it never comes out as the way that you think it should sound. It's always muted. It's so hard to know what to do, what to say… all you feel is doubt. You look for advice but nobody understands exactly what you're going through, and you feel like you are alone.
The emotions are coming up. You can't think of anyone else, you can't do anything else. You can't get them out. Do they feel the same way? Do other people feel this? Why can't I just focus on other things? I'm scared. What if I get rejected? What if they laugh at me? I can't deal with it. I just want them to like and appreciate me. Oh God why can't someone like me for me? Can't you just tell me that I'm OK as I am? I don't want to make you angry or scare you off I just don't know how to express myself. It's not your fault it's mine but I can't help it. Do you understand? Do you know what I feel? Will you ever?
If I run away and don't open up that will solve the problem, but I want that closeness so badly. I want the relationships with people. I want to get married. I want love. But I'm so god damn scared. I don't understand why I feel this way. I don't mean to hurt people or make them crazy it's just what I think inside!
It's better to stay safe and protected rather than risk getting hurt and deal with all these complexities. Welcome to a concise summary of the avoider mentality.

Exclusive Bonus: Download the checklist that shows you 9 common character traits someone displays when they're affected by the avoider mentality.
Emotional Risk and Deep Relationships
In order to feel complex and deep emotions for someone in dating, we need to take risks. These risks start from when we get over our fears to walk up to them and introduce ourselves, with the possibility of rejection, to revealing that we love certain things, and risking them calling those same things childish, stupid, or boring. We take forms of risk asking them on a date, holding their hands, going for a kiss, asking them to meet our friends, taking off their clothes, having passionate sex, bringing up difficult subjects, arguing, proposing marriage…. the list goes on.
But, without being willing to deal with sadness, regret, remorse, depression, anger, frustration, and a wide range of negative emotions… without willing to risk potential hurt and abandonment… nothing on that list will ever happen. This leads to all that unknown insecurity, inability to express emotion, and fear of rejection.
Consider the avoider mentality a huge flight or fight response. Though even if there's some fight involved, it usually moves to flight. Emotions are walled off so as to not feel vulnerable, leaving intimacy dead in the water.
The Unfortunate Origins of the Mentality
Beginning in childhood, the poisonous seed of the avoider mentality is planted: As a child cannot get their needs met when asking for them, or as they get rejected, they learn that they must rely on themselves alone to get what they desire. They cannot trust others, who will only say "No" or hurt them. It's easier just to deal with things themselves then risk that.
Avoiders believe that they must rely on themselves alone to meet their own needs
The buried traumas of the past let avoiders function pretty effectively in their daily lives, at least at the surface. But the toxic effects surface in situations involving intimacy, aggression, abandonment, and fear. The unresolved past comes into play again and again, and there's nothing the avoider can do about it if they are not conscious of the feelings.
The Avoider Mentality as it Plays Out in Intimate Relationships
Transferring into relationships (should they occur), the avoider stays quiet about many hard to face issues. Things that are irritating or large problems are internalized and stuffed away, versus being brought out.
Unfortunately, this strategy will ultimately fail. The emotions are released through one or many of the following non-exhaustive list of items:
Violent physical outbursts
Uncontrollable anger expressed verbally
Passive-aggressiveness
Withholding physicality and touching as well as sex
Shutting down, refusing to talk
Acting out sexually via affairs, prostitution, pornography
Eventual divorce in marriages after repeated releases
You could classify the avoider mentality as a large amount of defences rolled into one complex milieu of mechanisms to prevent any further trauma. The "I don't need you or want you" mentality isolates you from your own feelings and those of others. You live on the periphery of relationships, seeing others only as a means to an end. The abandonments from the past hurt too much that you can't sustain anything further. Why open up. There's no point. There are too many negative possibilities.
The crux of it is that there is an inability to love – both to feel it and to give it. It is not necessary that both are felt, or to the same degree, but one of the two is present.
Avoiders believe that they can handle things themselves and shouldn't rely on anyone else, especially in hard times when support is needed. They believe that they should just suck up the pain and work through it themselves
The Honeymoon Phase
At the beginning of the relationship, there is the honeymoon phase where so many chemicals are being released that many logical issues in character traits are not apparent. It is only in the middle stages where the imperfections are seen that larger issues can begin to develop. One side may begin to pull away in the relationship; the one individual who feels engulfed while the other feels abandoned by this pull away. Complicating things is the fact that each person experiences their own set of emotions, and can think of each other as the abandoner or engulfer! In some cases the individual who distances themselves doesn't notice, and the abandoner begins to feel like all the energy is coming from within to keep the relationship together.
This Relationship isn't Moving Forward!
The avoider mindset can lead to stagnation and neutrality in relationships as well. While you can set goals that motivate you including for a relationship, one side wants the relationship to move forward, the other doesn't. A case is built by the avoider to stop the relationship and to shut down their emotions, such as by being critical, finding faults in the other, and losing sexual interest. But is this the case? Asking certain questions can clarify this [1]:
Could it be that you have difficulty with insecurity, fear, and dependency?
Is the partner filling an emotional hole in your life?
Are you blaming your partner for other abandonments that you have experienced?
Is the emotional neglect from the partner actually imagined and just left over from childhood?
Does anger come out when the partner can't instantly remove feelings of desperation and neediness?
Love and Vulnerability
The emotion of love makes us feel vulnerable. As emotions go deeper the other person starts to tread on past wounds and any pain left over from past abandonments. The insecurity can cause anger and make you direct the blame towards your partner.
You feel confused: you think you want out of the new relationship, but is it you or your partner causing the problem? If it's you, then should you really leave? There are justifiable reasons for abandonment of another (alcoholic, abusive, etc.) versus perceived threats coming from your mind being projected outward in the form of insecurities, unrealistic expectations, and so on. The party that is more secure in terms of their attachment style enables the creation of a push-pull dynamic in terms of investment, further compounding the fears that the avoider feels. At any moment, they believe that they can be betrayed and so, their guard must be constantly up, lest they get shamed, abandoned, or hurt again.
To assuage these feelings, an avoider can move from relationship to relationship feeling the initial emotional highs of "falling in love" to medicate their feelings of loneliness, depression, and isolation…. but it's only temporary. Once the relationship becomes more serious and as time goes on, the insecurities come out, and the avoider will want to leave based on all the issues that are coming up.
Body Changes in Relationships – Hormones in Play [1]
The unfortunate issue is that the avoider will never experience the power and rewards of a steady and stable long-term relationship. Powerful drugs in the body promote attachment to your partner-oxytocin, pheylethylamine, opioids, dopamine, and prolactin, as well as becoming addicted to each other's pheromones. Activities such as sleeping together, cuddling, sex, touching, and thinking about the other person lead to mutual attachment. As two people's psychobiological systems become melded, they create one interwoven neurohormonal system. During a breakup, the intertwined systems go haywire. The connecting wires are pulled apart and go off sparking. The wires are either put into another new relationship to prohibit the shock of pain and disconnection (in an unhealthy manner), or in remaining alone for a period of time, the brain continues to search for its lost object-the other half of your hormonal regulatory system.
Ironically, the fact that the relationship became a "mutual regulatory system" is most apparent when it breaks apart. The pain is the first sign that someone grew addicted to the other person. The addiction is biochemical: Each other's pheromones are constantly breathed in, which are known to be habit forming. The couple's pupils dilate in synchrony, breathing patterns synchronized, as is speech patterning and heart rhythms. One's cognitive mind incorporated the other's into a sense of future as well as in every aspect of your current life.
What is the Definition of "Love"?
A compounding issue is the societal definition of what "love" is. Love should be people staring at each other moon-eyed, writing sonnets, playing music for each other, having sex all night, never stopping to think about anything else but each other, never fighting, living in bliss, always calling each other… right? Some of that may be true, but that's an ideal that doesn't exist.
Love is not an absolute feeling. It is unique to the two people involved, which is what makes it so damn amazing. No love is ever the same between two people. It involves being vulnerable, honest, and taking risk. This can include:
The reciprocal sharing of vulnerable feelings which builds intimacy and trust
Not holding back, allowing energy to freely flow from partner to partner
Creating new experiences with a partner that you can share – building a personal legacy not belonging to yourself alone, but to the relationship as a whole
Talking honestly about feelings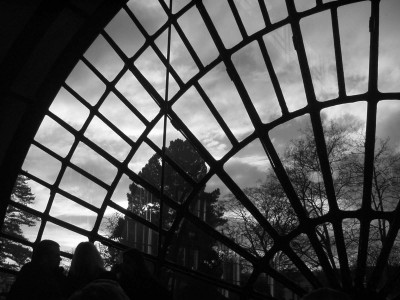 The Truth Hurts, but Denial is what will Kill You
It is unfortunate that the avoider mentality hits the hardest in intimate relationships, but it can also extend to friends, work colleagues, and everyone that you know. You are scared of admitting true emotions, whether good or bad, and fear reprimand, abandonment, and negative emotions from the other party.
The core of this? You aren't OK with yourself and place high value on what others think of you and what you do. You are prohibited from the true, un-filtered or watered down emotions you feel. And consequently…
Avoiders deny their feelings of vulnerability and longing for connection
In my last post on men and the laycount, I talked about guys running around fucking women versus being in long-term relationships. Avoiders can use casual sex as a means of running away as well. However, there is a dividing line that must be a established: An individual (man or woman, in this case) can consciously chose to have casual sex with one or several partners, getting their emotional needs met elsewhere and understanding that they won't experience deeper feelings. This is substantially different when contrasted against an individual who unconsciously chases sex as a means of getting some form of intimacy that only goes to a certain point, knowing it won't go any further. Usually, this person begins to develop deeper feelings which makes the other party question the "casualness" of the sex and move away. The avoider gets hurt anyways. Not only is the avoider selling themselves short, but also not being true to their inner feelings of the desire for closeness in a significant relationship. They are settling for less then they actually want, not only as a form of not dealing with deeper issues, but also providing justification to the untrue belief that they can't find anyone to have that deeper relationship with.
Obviously, conscious choice here is OK. Unconscious choice is dangerous and hurtful.
Healing and Moving Past the Avoider Mentality
Getting over the mentality is tough. Here are a few suggestions to begin the process:
The first step, as with many problems, is to identify and recognize it. This is the hardest part, as it can be both painful and embarrassing to admit that you have this issue. Moreover, it may be hard to really discern that you are running away out of fear.
Next is to create love within yourself and around you. It may sound hippy, but it's the truth. Avoiders fear getting into relationships and losing the love that may be present there, if they can even get to that point. But love can come from other places:

First, it can come from within and being kind to yourself. Take a day off if something stressful has happened. Do things that you love just for the sake of doing them. Reward and treat yourself to a nice dinner once in a while. Goof off and take breaks.
Then from around you, you MUST find people who love and support you. Family is one thing, but friends are the MOST essential in this. Having good friends that you know will never abandon you can help you feel support in all you do and experience, especially in hard times.

While this will help, psychotherapy may also be in order to work through deeper issues stemming from childhood to realize that what happened in the past does not necessarily have to repeat itself.
Learn to ask if your fears are based on fact, or what you think is going on. Talking to your friends and/or therapist can help you through this, as you will most likely need an outsider's opinion to help wade through your mind.
And finally, tell your partner. Perhaps not on the first date, but if things get deeper, explain that you have issues with intimacy, that problems surrounding this may come up. Keep an open line of communication and talk about the issues. Communication is the NUMBER ONE MOST IMPORTANT item that is essential to an amazing and successful relationship. If you don't tell anyone anything, they won't know, and make assumptions. That applies to why you do what you do, and what you need in the relationship. So start talking.
Avoiders fear intimacy yet crave it. It is only through recognizing this and consciously working through their issues that they can begin to enjoy the amazing possibilities of love that exist in the universe.
This article is dedicated to Jess. You will never understand how much our time together meant to me. I am grateful for everything that I got to experience with you, even if some of the things on our lists won't be crossed off with each other. I hope that you know that you've made an amazing and positive impact on my life as I have learned much from being around someone as unique and amazing as you. I wish you nothing but peace and the best in the future, and know that you will find the happiness that you are looking for. My love for you will never change.
How Can I Use This Information To Help Myself Or Someone I Know?
I created a free checklist that you can use to quickly see how much you or someone you are thinking of is affected by the avoider mentality.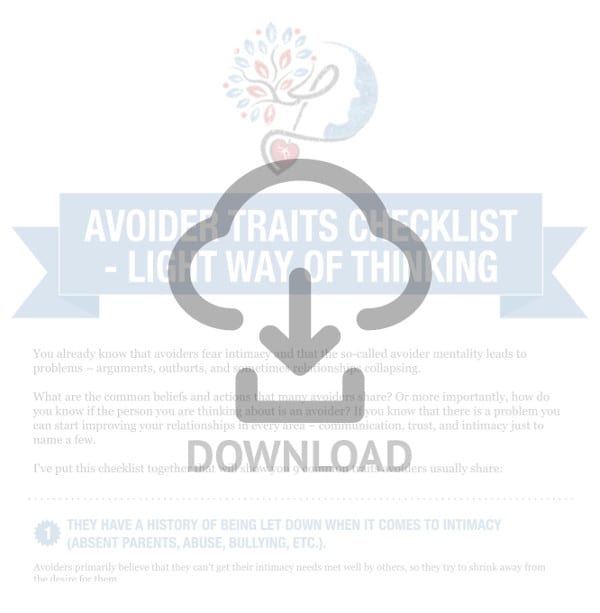 The checklist contains the 9 most common traits to look out for.
…and how identifying and working through them can lead to more intimacy, connection, closeness, and most importantly – happiness in your life and relationships.
Enter your e-mail below to download the free checklist:
---
[1]. Anderson, S. The Journey from Heartbreak to Connection. New York, NY: The Berkley Publishing Group, 2003.