This is the first guest post at Light Way of Thinking, written by my friend, Mike Mitchell. Mike is a charismatic guy who surprised me when he mentioned he suffers from bipolar mood disorder. I asked him to talk about what it's like to live with bipolar on a daily basis.
Having a bipolar mood disorder (BPD) is not as simple as "just" being moody. Scientifically, having a bipolar mood disorder is the biochemical dysregulation within the brain that often misappropriates emotional responses to different stimulli. This proceeds to the point where normal functioning becomes a disability.
Approximately 98% of the entire world will never have a diagnosis of bipolar disorder in their lifetime and experience this [1]. Things that may make a "normal" person really, really happy, excited, sad, or overwhelmingly depressed, are generally few and far between. However for someone living with bipolar, these extremes can be experienced regularly. For someone like me who has a rare form of bipolar 2, known as rapid cycling, or ultra radian, I can experience the equivalent of winning the lottery and losing a loved one within the same day, and without having actually experiencing either, or anything close for that matter.
At times, having bipolar feels like the closest thing to having super powers, and indeed, it feels like a blessing from God. It is as if He put high definition monitors and surround sound speakers within my private theatre for experiencing the ongoing series I call "life."
The first highlight I had after being diagnosed and truly accepting it, was when I Googled the list of famous bipolar people. Then, after feeling like I was in good company, I looked up at the posters on my wall to discover that my favorite bands all had lead singers with bipolar. What are the odds of someone liking Black Sabbath, Radiohead, Guns N' Roses, Smashing Pumpkins, Nirvana, and Stone Temple Pilots? Pretty good, actually. But at that time it felt special to me to know that I had something rare and in common with those whom I considered to be incredibly brilliant and cool.
Aside from bipolar being linked to writers, poets and people who are extremely creative, the biochemical dysregulation is also responsible for swings in mood, temperament, and energy levels. The common terms of depression and mania, or hypomania (a slightly milder form of mania) in my case, are what most people are familiar with hearing: the very happy or the very sad, thus bipolar, as in two extremes. But it's not as simple as just explaining it like that. Understanding that your brain is responsible for everything you hear, see, feel, taste or think about, brings into context how brutally complex having bipolar can be.
How to See BPD
If you can picture your body as a vehicle, and perhaps your mind as what controls the internals (engine, transmission, etc.), then maybe you can entertain the thought of my examples. When your mood is really good, you perform like a sports car with 500 hp, a very capable suspension, performance tires, and a fantastic breaking system. Your vehicle is capable of moving very quickly, being productive, multi-tasking, stopping on a dime, meeting deadlines, overachieving, moving in and out of difficult situations with ease and certainty—perhaps without the necessity for fuel, or even rest. In contrast, when your mood is really bad, your engine doesn't even start. And when you finally get it going after several tries, your transmission sticks, your tires barely grip, your brakes are horrible, and your vehicle is very difficult to operate, It gets to the point that it stalls and shuts off in traffic and sometimes causing serious problems for even those around you. You can't do things with the speed, effectiveness or overall tact that you could when your mood was good; in fact, you can barely function.
Getting out of the driveway, or getting out of bed can be incredibly difficult because your mind is overwhelmed; there are too many thoughts trying to get your attention at once, and each of those thoughts are causing some sort of feeling within you. Getting through the day can be mentally, emotionally and physically exhausting and simultaneously painful if you were just "driving" this car, much less being this car.
One of the biggest problems with this is that your car looks the same for people on the outside: your friends and family—the people in traffic next to you. Everyone has seen you speeding through traffic with ease because of your highly functional capabilities. But when you're not able to be that way, people cannot for the life of them understand why you're only doing 40 kilometres per hour on the highway, why you're late for work, and why you're so consistently inconsistent. Or in some cases, how you became so totally unreliable.
The other problem with this is that they identify with the highly functioning vehicle, and so do you; that's who you think you are; amazing. But when you can't perform like that for no fault of your own, you begin to resent yourself. Your anxiety and disappointment towards the thought of not being able to function at your highest level creates a conundrum within your being. Going over a bump in the road somehow transforms you into something else. That's how sensitive it can be.
A bipolar mood disorder can cause real abysmal depression. And generally at times when you have things to do, people to see, work, social functions, parents to take care of, and the like… you can't get your vehicle started. There is no CAA here.
If and when you do get your vehicle started, and it's still giving you problems, you can't help but think about crashing it. At least two-thirds of those who committed suicide have been found to have suffered from depressive or manic-depressive illnesses [2]. When things aren't going well, it can be horrible.
Even when you have the high-powered sports car, all is not well. You risk going too fast, losing control, or injuring yourself or someone else with your overwhelming intensity; spin outs, skidding, roll-overs and fish tailing are just a few. Most of the time you're a happy medium between the shitbox and the sports car. But picture what it would be like not being able to truly control your emotions—much less just barely being able to control how you react to them. How much control can you have when you're driving on black ice? How much experience can you ever truly have with winter driving where you can be certain that when you press the brakes and turn the steering wheel that you'll be safe? Having bipolar doesn't just affect you internally, but it alters the perception and even the reality of your external landscape.
The Emotional and Logical Brains in Bipolar
Because of how the bipolar brain works, extreme enthusiasm can easily inflate and impair your judgment without being detected. The logical part of your brain will almost ALWAYS agree with (and be able to justify) whatever the emotions want. Picture a government where the opposition almost always sides with the party in power, only to blame them after things go wrong, instead of having any sort of "debate" prior to shit hitting the fan.
Good intentions often lead to bad outcomes. Meanwhile, the fear and anxiety in moving forward with something or someone, because you're afraid that some of your confidence is fake, also hinders some of the best things that could ever happen to you. The highs those with BPD experience are better than any drug you think you can try. But most of the time, we are dealing with abysmal depression where we feel like we're mourning the death of ourselves.
To separate the bipolar from your personality and character is as difficult and painstaking as the chief of police running an internal investigation on his best police officer who's brought down scores of human traffickers, while being known to frequent whore houses, massage parlors and strip clubs. He's dirty and he should be stripped of his badge, but fuck… he's saved a lot of innocent women. He busts street level drug dealers that infiltrate schools, but he does lines of cocaine in his cruiser to deal with his stress, and all the cops know about it. The public loves him for who he "appears" to be, but you're sick of covering his shit up every time he fucks up.
Logically you can replace him, right? Now close your eyes for a few seconds. Open them now and picture your entire police force is like him. You have such a combination of good and bad, high and low, clean and dirty, highly functioning dysfunctionals. You generally hate yourself for being unable to "manage them" in a way where all their negative behavior disappears and their chances of being any more of a liability than an asset dissipates.
But this is sadly not the case with BPD.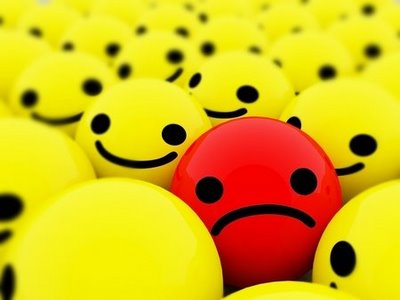 Managing BPD and Living Life
It's not only being unable to identify with the "good guy" or the "sports car" as often as we like, but generally having times of such polar opposites to whom we identify with that creates an extremely painful existence. When we have to drive the "shitbox" without warning, or, when we feel compelled to use unorthodox measures to cope with our stress so that we can function, there's a lot of guilt and shame that accompany it. Our biochemical dysregulation amplifies emotions, magnifies imperfections and turns analysis into paralysis. Self loathing of our limitations is one of things that makes having bipolar so deadly. The hopelessness and inability to see a better or more predictable future, combined with multiple identities within our identity, is often what brings us to contemplate not existing.
"If I can't control how I feel and how I perform in life, then what the fuck is the point?"
The point, however, is managing it as best you can. When life concludes, all you will have ever truly have were your experiences and the impact you've made on others. And to have experienced the supreme feeling of being a highly functioning vehicle that overcame overwhelming obstacles, while inspiring others around you to do the same, is all you can really ask for.
Image credit: Nicolas Levet
---
[2]. Goodwin, F. and Jamison, K. Manic-Depressive Illness. Oxford, NY: OxfordUniversity Press, 2007.