One of the most common reader questions I get is someone asking if they should stay with their avoidant partner.
I mean it's a crappy feeling isn't it: You really like or love the person and do care about them. But, you've got your own needs to look out for and deserve to be happy. You deserve to be with someone who can give you what you want.
Being stuck in purgatory, wondering if they'll change or you should move on, can REALLY waste your time, mental energy, and life. The avoidant attachment style can drive you crazy!

Exclusive Bonus: Download the checklist that shows you 9 common character traits someone displays when they're affected by the avoider mentality.
So, how do you get to the bottom of everything?
This article will show you how to treat an avoidant partner, how to think about leaving avoidant partners, and 7 questions you can ask yourself that will help you make your decision. Here they are:
1. Does your avoidant partner seem like they're willing to talk anything out? Or, do they constantly make excuses, say they're tired, and put up walls?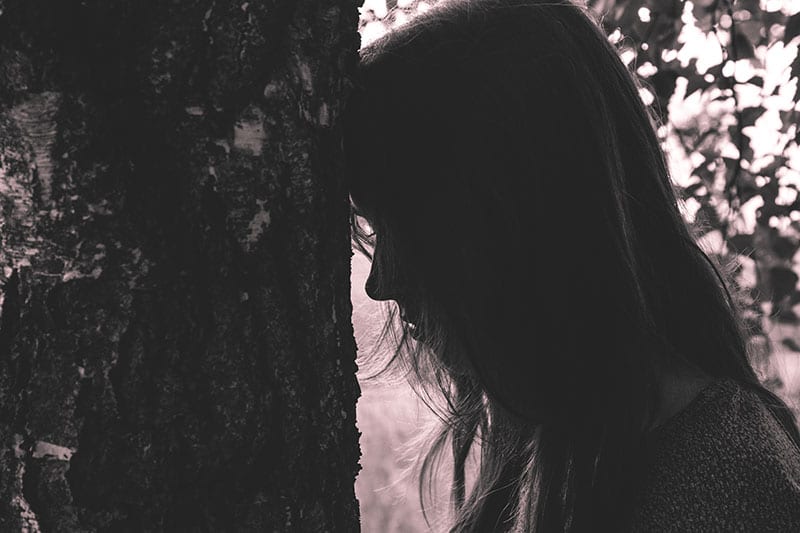 If your avoidant partner constantly finds ways to get out of deeper conversations, spending time with you, being affectionate, and having sex…it's not a good sign.
Avoidant partners who WANT to work through things and are emotionally aware and healthy will be willing to talk about things, even if they need some time to work things through.
Sure, it might hurt them at first if you come out and say you don't feel loved, that they're blocking you out, and so on. Being EXTREMELY direct isn't always the best way to approach things.
They might also need a day to think about it and reflect on what's going on (you can't expect everything to be fixed overnight). For example as an INFJ, I need TIME to work things through my brain. I do NOT do well with decisions in the moment and get pissed off if someone tries to make me be impulsive or give answers right then and there, unless of course it's absolutely necessary.
So while you need to be patient with your partner in terms of working through that they might be avoiders (seeing as it might be the first time they realize it in their entire lives), they should be open to some sort of discussion about it, or you two in general.
If not, it's not a good sign.
2. Has this been a recent change, or have they always acted this way?
We all have shitty times in life: Sometimes people just have bad days, weeks, months, or even years.
Just because someone is acting closed off NOW doesn't mean that they're necessarily an avoider, your relationship's dying, or anything like that.
Ask yourself: When you met your avoidant partner, were they this way?
When you met them or in the first 6 months of the relationship (if it's long-term, accounting for the "honeymoon" phase), how did they act? Is this a normal pattern of behavior? Do you think they've always been prone to avoidant attachment?
If it's just come up recently, it's time to support your partner and make them aware of how they're acting…they might not even know and be doing it unconsciously.
If they've always been like this, it might be time to leave.
3. Are they into self-improvement and personal development?
While this is a BIG generalization, by and large, most people who are into self-improvement WANT to change for the better and learn more.
This means that they're more likely to be open-minded, have less ego, and be willing to listen to you to figure things out.
They're more likely to be willing to work through each of your respective issues and try to change themselves to improve your relationship.
Avoidant partners who are into personal development are more likely to set motivating goals for themselves, be able to work on their own issues, and improve the relationship overall.
4. Are they emotionally open and aware?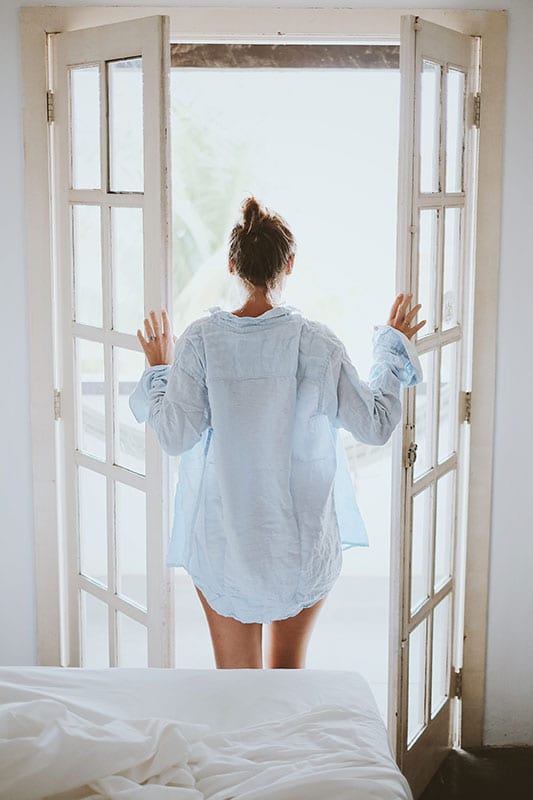 Continuing on from the last point, even if your avoidant partner isn't into self-improvement, do you find that they're usually emotionally open and aware?
Do you know a lot about how they usually feel and what's going on? Or, are they usually EXTREMELY closed off?
I'm not talking about knowing EVERY intimate detail about them. People deserve their own lives and privacy…
But if they're a super closed book, it can be a problem. If you know nothing about them past what their favorite color is, it's a red flag.
Someone who's emotionally aware of their state and who's good at being empathetic will have far less avoider tendencies because they're used to being open, or they'll be able to catch themselves when they start to close off.
At the same time if they're emotionally aware but LET their emotions really rule them all the time (e.g. "I feel anxious so it MUST MEAN I shouldn't do X thing that's scaring me"), it's still worth bringing to their attention what's going on. They might be so wrapped up in avoider fears and avoidant attachment that they don't know what's happening.
5. Are they usually affectionate with you?
People who struggle with the avoider mentality and this attachment style have HUGE problems with being affectionate and might not feel safe. That includes:
Lying in bed/cuddling, after sex or otherwise.
Basic public displays of affection, even hand holding.
Admitting they like someone.
If you're nodding your head to this, it's another red flag.
6. What's their history like?
You may not know everything about your avoidant partner or avoidant attachment, but put together anything you do know and answer the following questions:
Have they ever had any long-term relationships or relationships at all?
How have the relationships with their boyfriends and girlfriends been?
What's their family history like with their Mom and Dad?
What types of things have they been through growing up?
History is what drives our relationship building skills and weaknesses. Nobody gets by unscathed in life, but depending on what someone's been through, it can DRASTICALLY affect their emotional makeup.
So:
If your partner was cheated on, or cheated on their partner…
If their Mom or Dad was controlling…
If they were abused or bullied…
It's all going to affect them and how they act in the relationship.
HOWEVER, just because someone's been through some rough stuff it doesn't mean you should kick them to the curb…I got tripped up by that for a long time, and if you try to pick partners that way, you'll never end up with ANYONE.
I'm just saying that you should be aware of what's happened to them and if they haven't moved on or if it's super traumatic, you might not be able to help them or be super intimate with them.
There's nothing wrong with looking out for yourself and finding someone who's healthy and can give you what you want. It's not selfish.
It's dysfunctional to think you need to stay with someone and "save them" because of what they've been through. That's not your battle.
Which leads to the final question:
7. Have they ever been to therapy or done some sort of work on their thinking patterns?
People who have been through troublesome stuff but have gone through therapy, or found resources to address their issues, usually have worked a bit through things.
They're more conscious and aware of their negative tendencies, thinking patterns, and mental wastes.
They'll have better tools to deal with things and push through, and they'll be able to fight what brings them down, including things like navigating attachment styles.
Someone who's been with a therapist or instructor who knows what they're talking about will probably know if they're avoidant or are prone to the avoidant attachment style, and be consciously trying to work to make it better.
If that's the case, patience is the key, as emotional issues can take a LONG time to clear up when it comes to something like the avoidant style.
But if you need the openness NOW, you might be out of luck. Or, you might want to consider attending couples therapy together to help and try to solve the relationship issues.
Final Thoughts on Avoidant Partners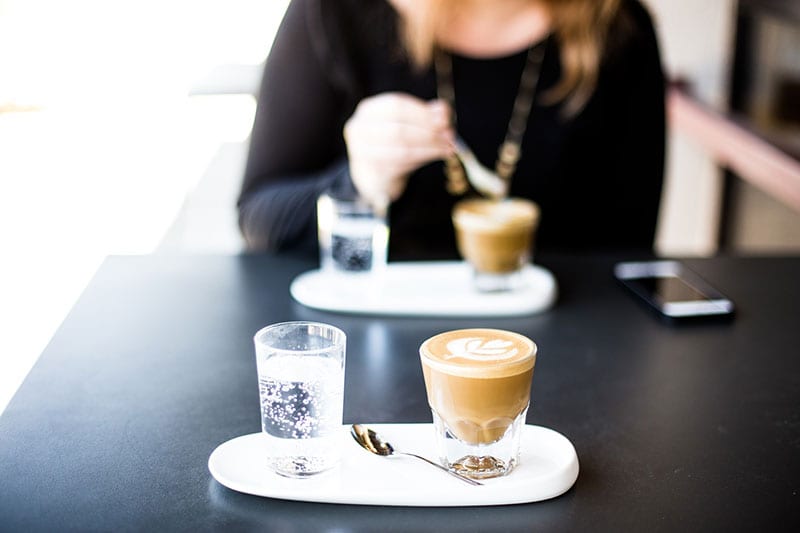 Now in all of this there's a balance that you'll need to strike.
I know you want a simple A,B,C of what to do, to know when to break up with them, how to get them to open up, etc…
But I can't give you that.
Every person is different, they aren't robots, and trying to do that is just going to frustrate you.
Trust me, I know from experience.
But what I CAN give you and what you CAN learn are guidelines of how to proceed with avoidant partners, what you should talk about, and what you can do for how they react.
Here are some final thoughts to meditate on:
1. In the end, you can take a horse to water, but you can't make it drink
You can't FORCE someone to change, and in fact if you try, they'll end up distancing themselves from you or getting pissed off at you.
All you can do is express how you feel, and see if they're ready to try and change for the relationship.
Couples therapy may help diagnose and solve some of these relationship issues as well.
2. Your avoidant partner might not feel like it's worth doing the work to change, or might not be ready to
That can be pretty shitty or painful to accept, but relationships and getting better takes work.
Dealing with avoidant partners can be challenging…
Sometimes, the person might not be willing to do it and it's just not a priority.
If that's the case, it's time to go.
Continuing on from that…
3. Sometimes you've just reached a limit on the level of intimacy and you two don't match
Maybe you want to go further, they don't or can't, and that's OK. Don't take it personally.
You've reached a bit of an incompatibility and you two aren't at the right time for each other.
For your own mental health, it's time to move on and find someone who is or be single (and there's nothing wrong with that).
Warning! You Must Avoid Doing This One Thing…
While your partner may be an avoider and needs to work on stuff, we're all improving.
You'll have to be EXTREMELY objective on the situation (and sometimes need someone who's completely removed from you to do this, like a therapist), to know if maybe you're projecting a bit on to your partner:
Maybe YOU'RE more of an anxious attachment type and need WAY more input/intimacy/affection, and you need to work on that, versus your avoidant partner not giving you enough. The avoidant style does usually attract those with the anxious attachment style.
It's never just a one-way street when it comes to things like attachment styles. Remember that.
You need to do some work too.
The best matches are when people's emotional maps line up.
Nobody got all their needs met when they're kids, and people who's maps are missing holes the others fill will have fireworks going off.
Dating successfully and finding the right partner is all about improving yourself to fill those holes as much as you can alone, and finding someone who can also help you a bit as well.
And if it's not the partner now, there's no problem with waiting to find finding someone else who can.
How Can I Use This Information To Help Myself Or Someone I Know?
I created a free checklist that you can use to quickly see how much you or someone you are thinking of is affected by the avoider mentality.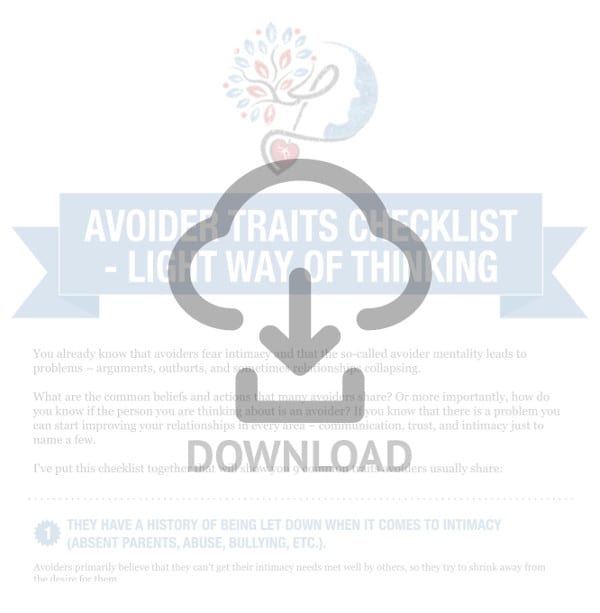 The checklist contains the 9 most common traits to look out for.
…and how identifying and working through them can lead to more intimacy, connection, closeness, and most importantly – happiness in your life and relationships.
Enter your e-mail below to download the free checklist and see if there's a match with your avoidant partner: