I just booked a one-way ticket to Vietnam a few weeks ago to make my first ever location independent move. I can work from anywhere.
Eeeeeeeeeeeeeeeee! (in girly high pitched scream)
I feel so nervous and excited it's nuts!
But you might ask:
"Noam – what process can I go through to buy my own ticket, and how can I save $1,500 while doing it? How do I curb my anxiety, fight procrastination, and learn about travelhacking?"
Perhaps you are a bit scared about the future and what would happen if you chose to travel as well.
I will assume that you are trying to move whenever you want to create an online business. I will talk about frequent flyer programs and saving hundreds of dollars. I'll combine useful information, links, and my story.
If you want to work for a company overseas or work as you travel at odd jobs, this will also help you and contain useful information.
Read on!
Step 1. Read about the location independent lifestyle, and how people create businesses completely based on the web so that they can travel whenever they want to
See:
This specific post from The Four Hour Work Week Blog on travelling 20+ countries while building a business
Read:
Question everything about getting a 9-5 type job working for someone else and what it entails. Do you have the freedom you want? Is the steady pay cheque more valuable than being able to move whereever and whenever you want? Are you at a place in your life where nothing is tying you down?
Step 2. Decide that despite everything, you wish to become location independent
Even if that means pursuing a business venture completely unrelated to your education or contrary to thoughts of others on what you should do. Be different. Be courageous.
Potentially get called out by peers. Disregard them and smile and do your own thing. Or if with like-minded peers, hear them say, "FINALLY! GO GO GO!"
Step 3. Determine what you could do to become location independent and what type of business you can run
Do you have the skills needed? Can you learn something? Are you prepared right now to get going? What type of job are you going to do?
Step 4. Build an online presence
Learn what the heck WordPress is and how easy it can be to make a site using it.
Step 5. Learn about travelhacking
There are MANY resources out there for travelhacking, and it can get incredibly confusing. The system I will describe was taught to me by my good friend, Tom, and applies to those who live in Canada. Similar cards and systems are available in other countries – sometimes with better rewards and perks (lucky Yanks!)
Travelhacking is the process of using reward points gained from sign up and referral bonuses on various credit and charge cards to get drastically reduced prices on airfare tickets using loyalty mile programs. For Canada, I will focus on Air Canada/Aeroplan/Air Miles. (A more detailed discussion of travelhacking for other airlines can be found by just Googling the word, or checking out Escape Plan by Mark Manson – now only available when signing up for membership on his site).
You will sign up for two cards:
Both are charge cards which have their annual fee waved for the first year. You sign up and after spending $500 on each card within 3 months of receiving them, you get 25,000 Aeroplan miles for each card. In fact the AMEX gold points can be used for other things as well (like buying golf clubs, fancy watches, etc.), but we are only talking about travelhacking only at the moment…
Two examples of the amount of points you need for flights as a rough guide:
12,500 points – flight within Canada
37,500 points – flight to Asia
To further convince you of why travelhacking is great, check out the costs of going to Vietnam booking via Air Canada's service. I am staying with a friend in Vancouver before going to Vietnam:


Now check out how much it costs using travelhacking and miles: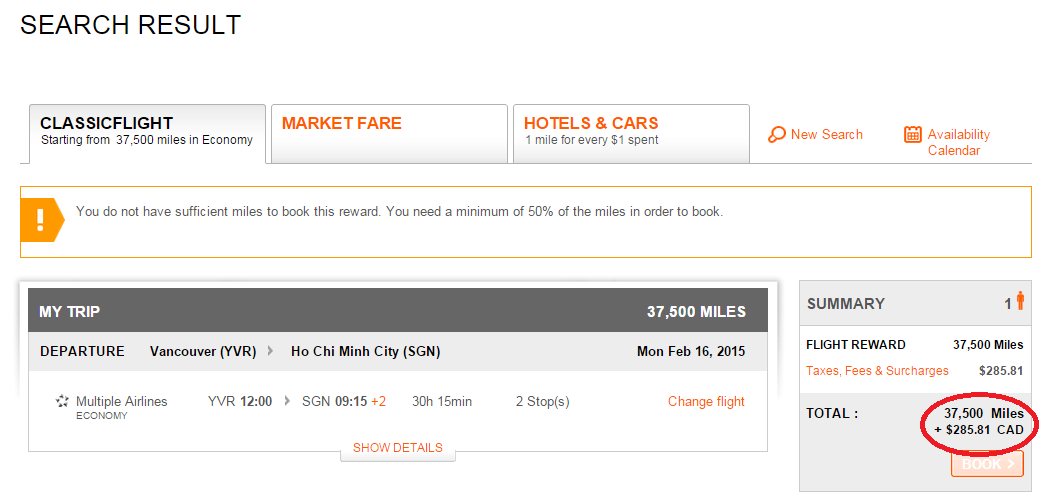 You could have just saved over $1,800.
Note that you pay with points when travelhacking but will still be subject to airline fees. Hence when booking through the Aeroplan website, check out different flight times. If they involve different carriers, you might save a large amount of money. For example when I was booking – a flight to Vietnam using Thai Airways cost $260, but using Eva Air only $134.
Step 6. Learn how to rack up points and miles, the SMART way
Most people try and buy tons of items on their cards to rack up points.
That's a losing strategy.
Usually the point to dollar conversion is 1:1. And when an international flight costs you 37,500 points, yeaaah… it can take a while.
So what do you do/how do you do it?
a) Sign-Up Bonuses
Almost all cards give a large sign up bonus of points if you spend a certain amount within a pre-determined time. For example like I mentioned with the AMEX cards, when you spend $500 in 3 months from the sign up date, you get 25,000 points per each card. Using both AMEX cards, you now have enough for an international flight, with money you'd probably be spending anyways.
Awesome.
b) Refer Friends
AMEX referrals give you 10,000 points each time a friend signs up for a card if they use a link you send them (accessible through your AMEX online account you get when you have a card). And as you can see, it's not hard to convince people to sign up for these cards with all the benefits.
Also, racking up points gets you preferential/premium status with airlines. For Air Canada, the highest status, dpremium, requires you to rack up 100,000 miles in a calendar year. But if you do that, the amount of Aeromiles you need for flights can be reduced by up to 35%, along with a host of other benefits.
Begin travelhacking a few months out of ticket booking, ASAP, so you have time to get your points.
Step 7. Ask mentors, those who have been in a similar situation, or forums about where you could move. Think about what area of the world is calling to you
But where will you move?
Find forums and people who have done similar things, and ask where they would recommend you move to.
I e-mailed one of my mentors, Mark Manson. I also asked one the owners of the EnterChina forum, Nick. I then posted on several travel forums.
Step 8. Decide on where you want to move
My hope was to head to Chiang Mai in Thailand, but they burn their fields every year around this time and it leads to a GREAT deal of pollution… like, wearing a gas mask all the time type of pollution.
So I said, "Naaaah, I'll leave this until later", and settled on Saigon, in Vietnam.
To decide, weigh out certain pros and cons as well as your desires:
What areas of the world are you interested in? What cultures do you want to learn more about?
Is internet speed and access important to you?
What about how people act? Is a more reserved society OK for you?
Do you prefer hot, cold, or mild temperatures?
What's your budget?
How safe and clean do you want the place to be?
Do you care about pollution and noise?
How long do you plan to be there? How easy is it to get a VISA?
Does it need to be English speaking?
For a list and breakdown of the top location independent digital nomads and expats, along with typical temperature, internet speed, air quality, and cost of living, see Nomad List.
Step 9. Say you will buy a ticket soon, then put it off for a while
Talk a lot about buying ticket, and never do it.
Procrastinate due to the fear of actually committing to moving.
Step 10. Get serious about buying a ticket – use deadlines and penalties
Fight procrastination by telling your friend you'll pay him X dollars and clean his nasty ass room if you don't do it within a week.
Step 11. Search for a ticket using the airline websites combined with aggregate searches and hub airports
Using the Aeroplan ticket purchasing tool (available from the Aeroplan website when you have a card), see what happens when you try to book a ticket from your current location to where you want to go.
Some of the connections might be crap. And even with being able to do layovers in some cities, you may not be able to in all cases and trips.
For that, you need to widen your horizons. Consider bouncing to a central aiport hub where many international flights go in to and out of. Flights will be cheaper to this destination.
Then, use aggregate flight searches to find possible tickets from the hub to your final destination. These take all the flights offered by a billion airlines and show them all to you, organized by fastest flight time, cheapest ticket, and more. Check out:
Check the costs on these sites one day. Check the next day too – airlines constantly change their prices.
Play around with your dates as flights on weekends are more expensive, flights mid-week less so.
As well, book your flight either 2 months in advance if possible, or very close to the flight date. These are when the flights will be cheapest.
Step 12. Buy the damn ticket
Try and click button.
Be too scared and call two friends to help you do it.
Don't let fear hold you back.
Step 13. Have a tiny freak out, "What the hell did I just do?" followed by "OMG I CAN'T BELIEVE I'M GOING TO X PLACE!"
Call me if you will be in Saigon, Vietnam in February 2015 ;).